Fan Quilt
About this quilt
Pattern for the Fan quilt came from a book called Fan Quilt Favorites (Quilting Made Easy) by Carol Cook Hagood, 1995. I used the pattern for the fan only from the Jacob's Flowers and Fans pattern on Page 18. I created cardboard templates for the fan pattern.
This quilt is made from nearly all vintage materials. The only new materials used were the cotton batting, some new thread, and the quilting thread. This quilt contains 100% feedsack from the 1930's, 40's, and 50's (purchased from eBay for $5-10 for each sack). This quilt contains pieces from about 30 various sacks. The white background was cut from white feedsacks; the turquoise, aqua, teal, and yellow fan feedsacks were assembled and sewn directly to 12″ squares of white. Each fan's edge is secured with vintage rick rack (some purchased from eBay, some froms dollsandlace.com, and the some of the baby rick rack came from friends of the family). The turquoise thread used in this quilt came in a box of vintage serger threads originally used in various SC textile mills. The thread box was purchased from the US 1 Flea Market in Columbia.
Quilt was pieced by sewing machine during 2003 in Florence and the hand quilting was completed by December 2004. As pictured, this quilt was incomplete without binding or quilting. The hand quilting was stitch-in-the-ditch around the fans. This quilt contains cotton batting and white feedsack backing. French binding, made white feedsack, completed the quilt.
Images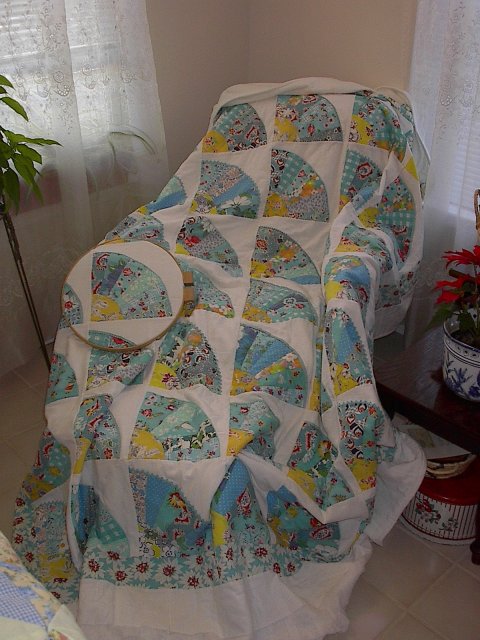 Fan quilt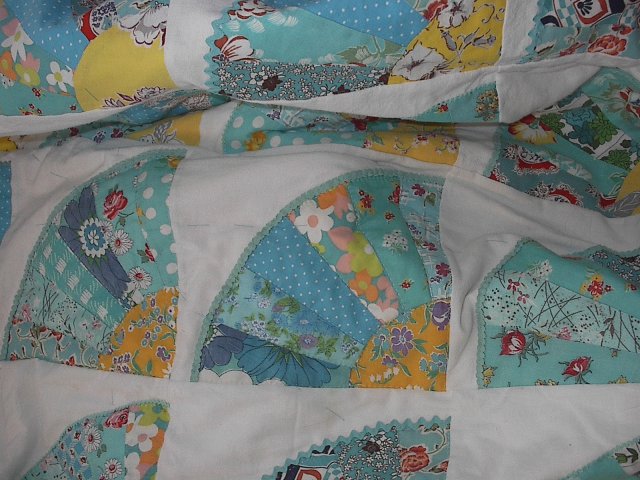 Fan quilt – a little closer