[Break Time! is a series of posts about video games that Rick has spent entirely too much time with over the years.]
One of my hobbies is collecting and restoring old video game systems. Not arcade machines, since I don't have a house nearly large enough for a bunch of arcade machines, but consoles.
As a kid, I owned an Atari 2600 console – which gave me years of entertainment until it had an unfortunate run-in with a thunderstorm. Many years later, I bought a secondhand Atari 2600 at a flea market, then dug my old cartridges out of the attic. I was bitten by the collecting bug, and now I have a "library" of old game consoles and their games.

There are some who say that Atari 2600 games were the best games ever made. I am not one of those people. As someone who owns nearly three hundred different Atari cartridges, I'll go on record to state that most of the Atari 2600 cartridge library is complete crap. The only entertainment value many of these games had was the "wow" factor: you could actually control the images on the television screen!
In 2007, most of the Atari 2600 game library is worthless – unless you're interested in the evolution of video games. But there are some games that stand out; games that were more than just moving blocks around on the television screen. Dark Cavern, by Mattel (a.k.a. "M Network") is one of those games.
You are a man in an unfortunate situation. You have a gun, and are thrown into a dungeon populated by spiders (which paralyze you), bulletsuckers (which … suck your bullets away), and killer robots. The robots chase you around the dungeon relentlessly, and shoot at you if they "see" you. You can shoot back at all of these enemies. There's a catch: You can run out of bullets, but the robots have an endless supply.
You can scrounge up more bullets by picking up a flashing "gun" that appears occasionally in the dungeon. This is often harder that it sounds; the gun often pops up in the midst of a gang of robots, and disappears if you don't claim it quickly enough. Such is life in the Dark Cavern.
On the easiest difficulty level, you initially battle only two robots. Once you blow away enough robots, the game sends out three robots at a time. Then four. The robots get faster as you kill more of them. They also get "smarter". Earlier robots can only shoot in the direction they're facing. Later robots rotate their heads to face in all directions – making it impossible to score an easy kill by sneaking up behind a robot.
(These screen shots were taken on the highest difficulty setting – four robots with rotating heads.)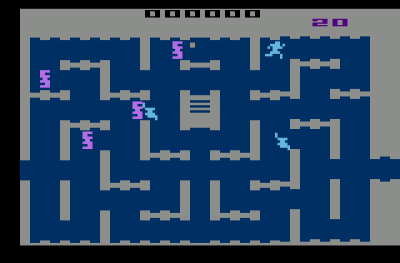 As you run, hide, and shoot, you hear the roar of the robots prowling the dungeon – a sound that changes depending on how many robots are in the maze. If you've managed to blast all the robots, it's eerily quiet – until the next batch of smarter, faster robots thunders in to kill you.
All in all, Dark Cavern is a surprisingly intense game. It's one of the rare group of Atari titles that will actually entertain you in 2007. Or at least, it will entertain you until the killer robots blow you away. And they will blow you away. This is an old-school game which cares nothing for your self esteem. You will not win.
… but you might get a high score.
---
Additional note: Dark Cavern is one of the few games of its era to have "friendly fire". The robots can and will occasionally shoot each other trying to get you. In Dark Cavern, a bullet is a bullet.