If you've ever heard about barbecue in South Carolina, you've probably heard about Maurice Bessinger and his bright yellow mustard sauce. The main Bessinger restaurant ("Piggie Park") is in Columbia, but there are also some smaller satellite restaurants around the Columbia area and as far away as Santee, which is where you will find this particular place: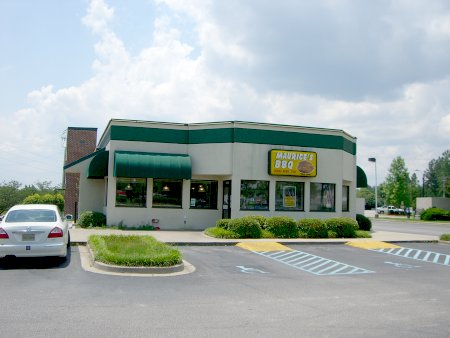 Maurice's BBQ – just off Exit 98 on I-95
So, how is it? Can you really just pull off of the highway any time of the week and get some good barbecue – fast? We'll see.
When we entered the restaurant, I got a bit worried. The staff was arguing about how few customers the place had. We stood in front of the register while this argument raged on – with the staff seemingly oblivious to the fact that they had customers – two of them! When the staff finally took notice (after two more customers had lined up behind the two of us), we were able to order some food.
Patty and I ordered two BBQ sandwich plates with "Big Joe" sandwiches. Prices were high. Ordering two "Big Joe" baskets will cost you as just as much as eating at a buffet like Antley's. Our bill was about $20 including drinks. Here's what you get with the "Big Joe" basket: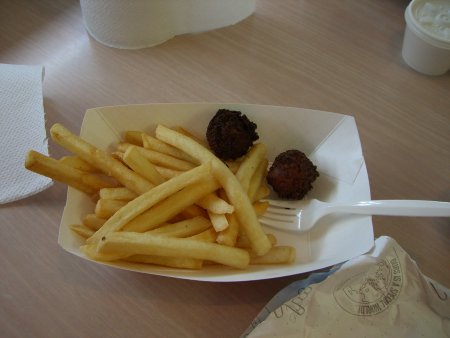 Big Joe basket: Fries, meteorites, and a small container of slaw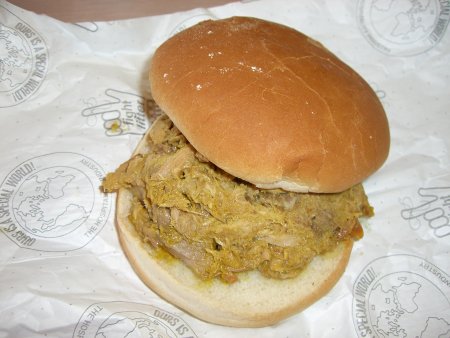 Big Joe sandwich
The "Big Joe" basket comes with fries, slaw, and meteorites. Most BBQ places don't serve meteorites, so I assume that the dark rocklike things in our sandwich baskets are supposed to be hush puppies.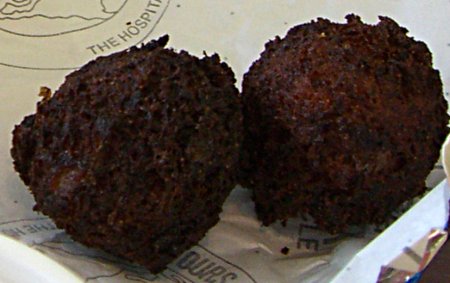 Burned up on re-entry
Nope. Those are definitely meteorites, and are completely inedible. They must be included for decorative purposes only.
So how's the sandwich? For nearly ten bucks, it'd better be large – and it is. There's a lot of meat inside a "Big Joe" sandwich. The meat has been cooked in Maurice's mustard sauce. There's not much sauce in the meat. If you're not into South Carolina mustard sauce, that's a good thing. Me, I grew up with the stuff – so I had to pour on more sauce.
The sandwich was okay – except for the large piece of bone (or something else just as hard) in the middle. Be careful biting into a "Big Joe" – since Maurice's BBQ isn't very good at picking the bones out of the meat before putting it into a sandwich.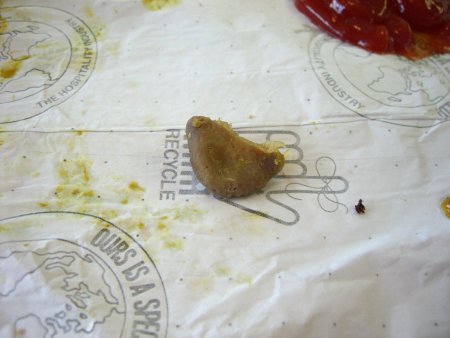 Imagine biting down hard on this… ouch!
What's the verdict? Simple – go eat somewhere else. Even if you're on tthe highway, you'll have a better experience eating at a buffet like Lone Star (same exit as Maurice's BBQ). You'll pay about the same amount of money for better food.