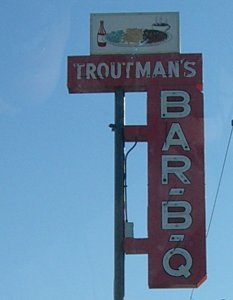 This post will be a little different than some of my previous southern BBQ features. It's based solely on getting BBQ as a take-out rather than eating inside the restaurant. I'll have to apologize in advance to y'all if you were wanting to see the inside of Troutman's.
Troutman's in Concord is a favorite BBQ spot for my wife and mother-in-law, and we managed to stop by there long enough to get a take-out order of BBQ, sauce, and slaw.
Speaking of slaw, you have a choice of two kinds at Troutman's. You can get a more traditional white slaw, which looks like this.
You can also get a red slaw, which looks like this.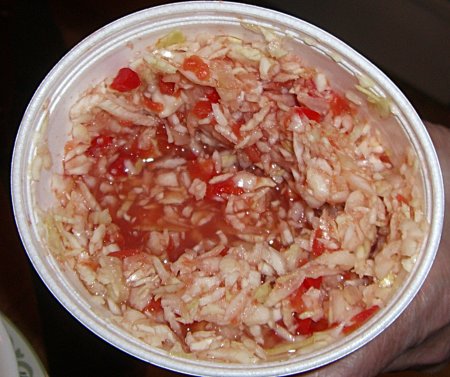 It's the red slaw that seems to be unique to Troutman's. The red slaw is similar to the white slaw, but with added sweet peppers and hot sauce. (What, you thought slaw was for cooling your mouth?) I'm told that the red slaw goes well on a BBQ sandwich.
Update! For those who aren't reading the comments, Rev. BigDumbChimp points out that the red slaw is fairly common around Winston-Salem, although the exact ingredients are variable. (Sounds a lot like "Charleston" red rice, actually…)

Thanks, Rev. BDC!
Now we come to the BBQ itself. Troutman's BBQ is served chopped and dry. No sauce is cooked in with the meat.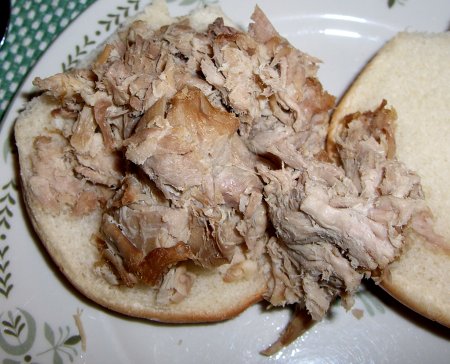 Having trouble seeing the meat? Click this link and download this 1024×768 JPG image to use as your backdrop! [173K]
The meat at Troutman's is a little bland, without much detectable smoke flavor. Sauce is provided – a pepper sauce that tastes a lot like Texas Pete with extra vinegar. I was skeptical of the sauce at first, but I have to admit that when added to the meat it makes a pretty darned good BBQ sandwich.
If you're passing through Concord, give Troutman's a try. Just make sure you have plenty of sweet tea handy!