Fayetteville, North Carolina is a military town. Because of that, there are quite a lot of restaurants to choose from. Since I'm a BBQ fan, I got Patty to take me to a BBQ place while we were visiting the in-laws: Cape Fear BBQ & Chicken.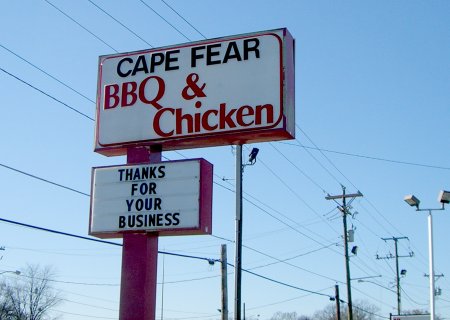 Cape Fear BBQ & Chicken sign
As you can see, this place is more or less a local joint. If you go to Cape Fear BBQ & Chicken, you will go for pork BBQ, not to admire the decor.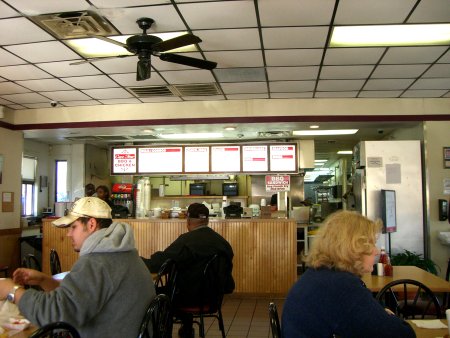 The view inside Cape Fear BBQ & Chicken
Prices are reasonable. A small BBQ plate – which comes with hush puppies and two sides – is $5.29. With drinks, our bill was less than $15.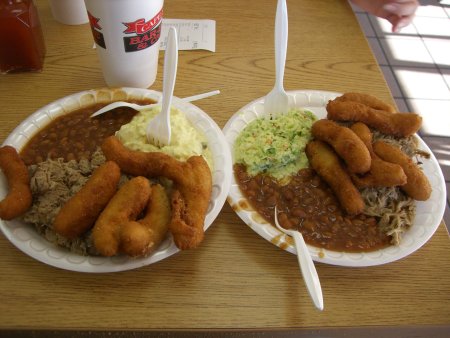 BBQ plates. These are the small BBQ plates. I hadn't had any breakfast and one of these plates was more than enough for me.
The usual North Carolina sides are available: baked beans, Brunswick stew, slaw, potato salad, etc. The BBQ style is light vinegar – very much like the Village Inn in Lumberton.
Here's a shot where you can see the BBQ.

BBQ plate close-up
So how was the BBQ? I have to again admit that vinegar BBQ is not my preferred taste, but Cape Fear BBQ serves up a respectable BBQ plate. I should also mention the hush puppies – not as good as Village Inn's hush puppies, but definitely above average.
If you're passing through Fayetteville and are looking for some BBQ, Cape Fear BBQ & Chicken is worth a stop. You'll find them at 523 Grove Street.