Although Myrtle Beach has lots of restaurants, you might find yourself getting hungry before you get there. Why? If you're going to the beach during the summer, traffic's going to be backed up for miles. If you're in that situation, you might be forced to stop off in Florence, SC for a bite to eat. Let me recommend that you avoid the plastic food substitute served at places like Ruby Tuesday and try one of the real local restaurants.
Old Europe Mediterranean Grill is a former pizza joint (Pizza Chef, or Pizza Inn or something like that) that has been granted a new life – as a place with good food and excellent service.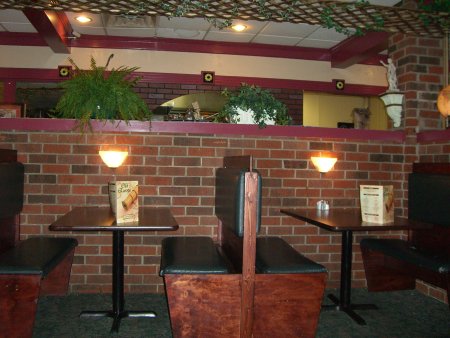 While the decor doesn't quite match the spectacle of some of Myrtle Beach's expensive places, the food more than holds its own.
If you do prefer some flash with your dinner, visit Old Europe on Thursday or Saturday evenings – when they have live bellydancing. (You'll have to go yourself to see that, since I don't have a picture of the bellydancer!)
The menu at Old Europe is quite varied, and I haven't had the opportunity to try even half of the stuff they offer – despite eating there at least once a week. I keep coming back to the gyros, served with Greek potatoes.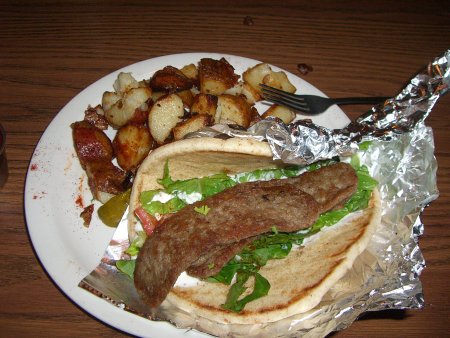 I pulled this one apart a bit before taking the picture.
You can order several kinds of bread with your meal. One of our favorites is the Damascus bread – which is dough baked in Old Europe's brick oven and served with oil for dipping.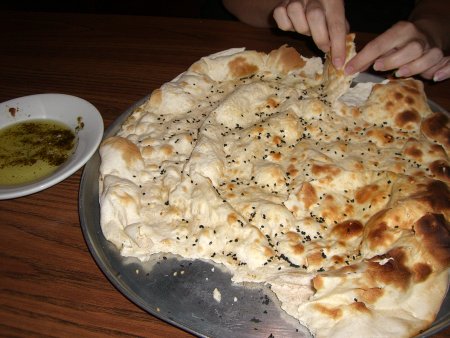 Here, Patty voraciously devours the Damascus bread as I try to take a picture
Some of our other favorites on the menu are the cheese ravioli, the lasagna, and the brick-oven pizza – which I'll eventually get some pictures of.
The prices are quite reasonable. Our bill usually runs about twenty dollars or so for two people including tip and an order of bread.
If you're in Florence and you'd like to try Old Europe out, you can find it at 944 S Irby Street in Florence, next to the Julia theater.